Amongst all the craziness that's happening right now, we have some exciting news. The Equalution Team are excited to present to you all the 8 Week Challenge Winners! Well done to everyone that participated in the challenge, together we lost over 10,000kgs, can you believe it? Our nutrition coaches reviewed over 20,000 check-ins throughout the challenge, changing bodies, lives and minds worldwide.
Remember, we host our time-sensitive challenge once a year, but you can join at any time and be part of the fun (and results!) with Equalution. We look forward to seeing what everyone will achieve in the remainder of the year, as we've already seen such incredible results. Below are the 8 Week Challenge Winners and a little bit about their inspirational journeys.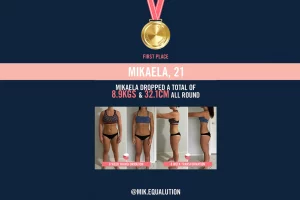 1st Prize: Mikaela Tomasella @mik.equalution
Throughout the challenge, Mikaela has lost a total of 8.9kgs and an amazing 32.1cm. She's now been an Equalution client for 9 weeks and counting, stating when she renewed that Equalution has been life-changing and was the best decision she's ever made. We're so happy to have you as part of our Tribe Mikaela!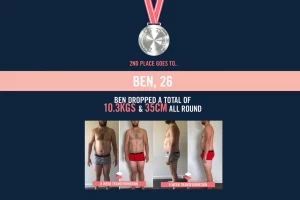 2nd Prize: Ben Donnelly
Ben has been an Equalutioner for 8 weeks now and has decided to continue kicking his goals for another 12 weeks. Surprising himself week in and week out, Ben has seen a killer 10.3kgs drop on the scales and has lost a total of 35cm all-round.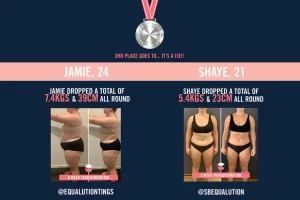 3rd Place – Sisters Shaye & Jamie Beattie @sbequalution @equalutiontings
Shaye and Jamie absolutely smashed the 8 Week Challenge, documenting their whole journey on their social media accounts. Supporting each other the whole way, Shaye lost 5.4kgs and 23cm and Jamie saw a 7.4kgs and a 39cm drop, making their combined loss 12.8kgs and 62cm.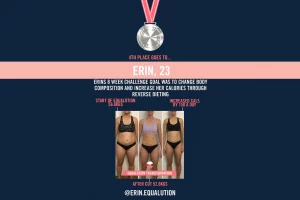 4th Place – Erin Radel @erin.equalution
Erin is a familiar face on Instagram and is much-loved by the community we have on social media. Being with us for 32 weeks, she's seen a huge drop of 4.1kgs and is now on a weight maintenance and body composition plan. Starting her journey on 1800 calories, Erin is now consuming 2150 calories per day and looking and feeling amazing!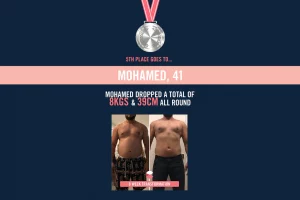 5th Place – Mohamed Marabani @moe_2389
Mohamed is the self-tracking KING and has killed the game over the past 8 weeks, losing a total of 8kgs. He's looking like a totally new man and has decided to continue his journey for another 15 weeks. We know that big things are coming for him – bring it on Moe!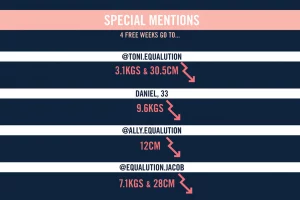 And finally, some special mentions to standout 8 Week Challengers! Thanks so much to everyone who participated, let's continue to smash 2020 together.