These warmer months mean getting outdoors and enjoying the sun, sand and sea. So the last thing anyone wants to do is slave away in a hot kitchen when you're craving something satisfying to eat. Don't worry though, we've got you covered! These are our favourite, no-cook treats that are so tasty you won't believe they're actually good for you… 
1. Twisted Frozen Yoghurt Minis
Frozen desserts and summer go hand in hand, but wouldn't it be unreal if you could enjoy something icy and sweet without the guilt? Well, thanks to Twisted Healthy Treats frozen yoghurt minis, you can.
At 90 calories or less per cup, these delicious morsels come in a range of yummy flavours, including; watermelon & mango, strawberry & vanilla, chocolate & banana and chocolate & vanilla.
Trust us, these will be your new summer staple!
Twisted's frozen yoghurt range can be purchased at Woolworths and Coles supermarkets.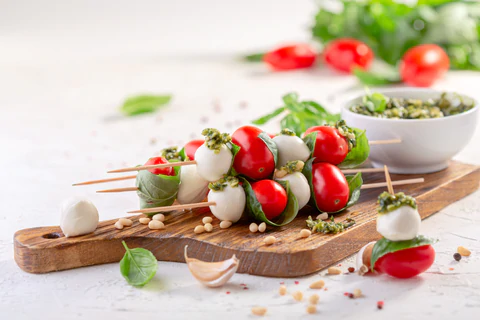 2. Mini Caprese Salad Bites

Makes approx. 5 bitesCalories: 143
Protein: 7g
Fat: 9g
Carbs: 11g
Fibre: 1g
INGREDIENTS
– 100g Cherry Tomatos
– 35g Fresh Mini Mozzarella Balls
– 20g Fresh Basil
– 10g Balsamic Glaze
– Salt & Pepper to taste
METHOD
1. Wash cherry tomatoes and basil leaves and pat dry.
2. Using a small skewer, place cherry tomato, basil leaf and then a mozzarella ball. Repeat until all ingredients have been used.
3. Drizzle with balsamic glaze, salt & pepper.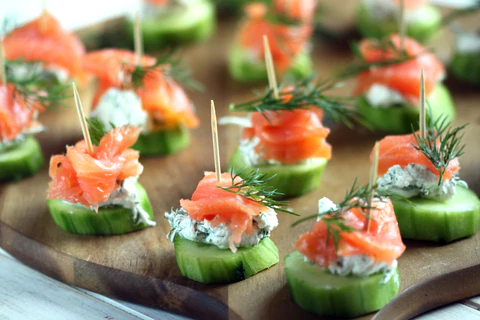 3. Smoked Salmon Cucumber Bites

Makes approx. 5 bites
Calories: 190
Protein: 17g
Fat: 10g
Carbs: 7g
Fibre: 2g
INGREDIENTS
100g Cucumber
50g Smoked Salmon
40g Philadelphia Light Cream Cheese
20g Greek Non Fat Yoghurt
10mL Lemon Juice
4g Minced Garlic
5g Fresh Dill
METHOD
1. In a bowl place the cream cheese, yoghurt, lemon juice, minced garlic and mix until well combined. Set aside.
2. Cut the cucumber into even slices and lay out on a plate.
3. Place the smoked salmon on the top of the cucumber ensuring all pieces have an even amount.
4. Pipe the cream cheese mixture on top of the salmon and garnish with fresh dip and pepper if desired.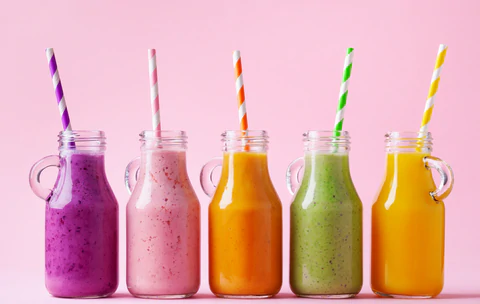 4. Summer Fruit Frozen Smoothie

Makes 1
Calories: 274
Protein: 4g
Fat:4g
Carbs: 54g
Fibre: 3g
INGREDIENTS
1x Twisted Frozen Yoghurt Watermelon & Mango Mini Cup
60g Frozen Mango
80g Frozen Strawberries
60g Frozen Pineapple
200mL Just Juice Unsweetened Orange Juice
METHOD
1. Place all ingredients into a blender and blend until you reach desired consistency with no chunks.
2. If needed you can add ice to make it more thick, alternatively you can add water.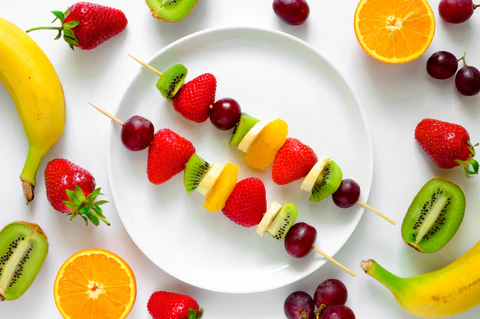 5. Fruit Skewers with Yoghurt Dip

Makes approx. 3 skewers
Calories: 256
Protein: 17g
Fat: 1g
Carbs: 47g
Fibre: 5g
INGREDIENTS
80g Strawberries
60g Blueberries
60g Watermelon
60g Pineapple
60g Rockmelon
60g Grapes
1x Danone YoPRO Flavoured Yoghurt Pouch of choice
METHOD
1. Wash and pat dry strawberries, blueberries and grapes.
2. Dice all fruit into even parts.
3. Using a skewer slide on a piece of each fruit and repeat until all ingredients have been used.
4. Place the yoghurt in a small serving tray to dip skewers in.