You wake up after hitting the snooze button half a dozen times only to realise you've now left yourself a very small window to get ready and get out the door… We all have these mornings, and usually breakfast and your nutrition for the rest of the day typically suffers because of the shambles of a morning. So here's a simple solution, 3 breakfast options that can be made in under a few minutes – no cooking required, high protein and taken on the go as you zip out the door.
The Equalution Brownie & Berry Yoghurt Bowl
1 x Danone YoPRO Flavoured Yoghurt 160g Tub 2 x Bare Bakers Brownie Bites Raspberries: 50 grams Strawberries: 120 grams
The Equalution Salted Caramel Smoothie
Protein Powder: 30 grams Skim Milk: 200 mL Banana: 50 grams Coles Bake & Create Caramel Dulce De Leche: 30 grams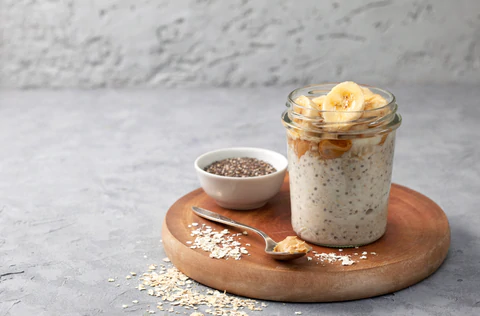 The Equalution Banana & Coconut Overnight Oats
Plain Chobani Non Fat Yogurt: 80 grams Skim Milk: 125 mL Cinnamon : 5 grams Shredded Coconut: 10 grams Banana: 50 grams Queen Sugar Free Maple Flavoured Syrup: 15 mL Don't use limited time as an excuse to dodge committing to your health and fitness goals and on that note avoid the mindset of writing off the day if something doesn't go to plan. Instead simply change your method to compromise with your lifestyle. Want the tools to accelerate to your goals? Equalution is your pocket nutrition coach, we calculate your body's daily target goals and use foods of your preference to meet these in a customise nutrition plan. Time poor? Like all lifestyle factors, we tailor to you!
Join Now