So it's no secret that with flexible dieting and maintaining a balanced diet, you can have your cake and eat it too. One area that most people value within their lifestyles and love to incorporate is dining out! Dining out can be the make or break of your diet. It can be the lifestyle luxury that keeps you safe, regulates your determination and level of discipline, while on the other hand, it can be the cause of blow-outs, giving up and counteracting results. Here's our list of top DANGER CHOICES when it comes to dining out. This might not mean that these foods can't be tracked into a flexible diet, but in a calorie deficit may be
difficult or impossible
come at the expense of reaching your macro and micronutrient goals for the day.
Amazing 6 week progress by our Equalution client Christine.
This was achieved through a flexible diet approach allowing her to enjoy her favourite foods such as pancakes and fries, among lean meats and vegetables.
1. A Kebab Style Snack Pack
A snack pack usually consists of a base of hot chips, shredded kebab meat, BBQ sauce, garlic sauce and cheese. Something like this can be as costly as 1000 – 2000 calories and is particularly EXTRA high in fat.
2. A Kebab
Much like the above snack pack, a kebab can range in calories anywhere from 600 – 2000 calories. The Equalution Team did a deconstruction of this from a takeaway shop order, weighing each component and here's the result: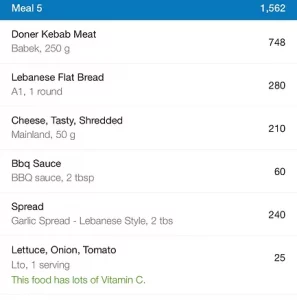 >
This equated to a full day's worth of food: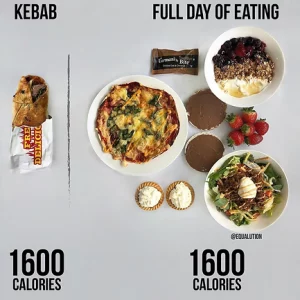 3.  Creamy Carbonaras
Any creamy pasta will be extremely high and costly in calories. The issue with a lot of Italian meals – take away and dine in – is that the portion is extremely large. The meal itself is comprised of calorie dense components too, so collectively it makes for a really high-calorie, high-fat meal and often also the equivalent of a full days worth of food: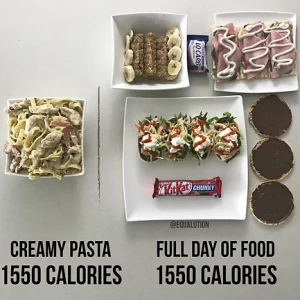 4. Double/triple burgers
Burgers in their most basic form are usually quite high-calorie, though when double and triple loaded with patties and cheese, they can be an extremely calorie-intense meal. Oportos, Hungry Jacks and McDonalds are iconically home to some of the highest calorie burgers – like the Double Whopper, Double Quarter Pounder etc.
5. Fried Chicken
Due to the cooking method of crumbing, flouring and deep-frying, fried chicken is very high in calories and lacks nutrient density. KFC wings boxes for instance are over 500 calories for a SNACK SIZE!
6. Full Rack of Ribs
A full rack of ribs will cost you about 1200 calories. It's calorie-dense due to being a fatty meat, a large portion and also covered in basting. Add chips to the mix and this can be a really dense meal, again the equivalent of a full day.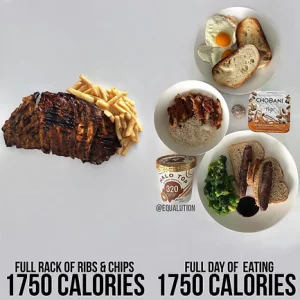 7. Creamy Mayo + Crunch Sushi
Largely due to the deep fried crunch and calorie dense mayo plus the size, a lot of sushi rolls with these components can be very high even though sushi has a 'healthy' option stigma.
8. Phos and Laksas
Phos and laksas also catch out a lot of people believing they're making a good choice when they can be quite calorie-dense – some up around the 800 calorie mark!
So at first glance, some take away/dine out options seem like a 'healthy' choice, or even excused as a weekly cheat meal. However, many are loaded with hidden calories and the meal itself can equate to an entire day's worth of food. By the day's end, it's likely that you'll have maxed out your calorie budget or busted it by a huge number, which can lead to progressive weight gain.
Learn about nutrition and the needs of your body while acquiring tools to incorporate the foods you love. Don't prohibit yourself from eating out, be wise, be prepared and be flexible! Let us show you the light and educate you on eating flexibly according to the science of your body, contact us here.
And, as promised, here's our favourite homemade Peri-Peri Chicken Pizza recipe! Don't forget some of your high-calorie dine out meals can be appropriated to a macro-friendly version:
Chicken Breast 100g
1x Mission Small Pizza Base 100g
Leggos Pizza Base Sauce 50g
Light Mozzarella Cheese 30g
Tomato 30g
Spinach
Red Onion
Nandos Peri-Peri Perinaise 10g
Fountain No Sugar Added Sauce