2020 brought us vodka pasta by the truckload, endless banana bread, sourdough starters on every kitchen bench and Friday afternoon "quarantinis".
Fast forward to 2021, serial takeout consumers became budding chefs, late nights scrolling on TikTok inspired the following night's dinner, and traditional breakfasts became indulgent treats.
While some received the Equalution stamp of approval, other trends had us screaming in horror at our phones.
Keep scrolling for our complete round-up of Equalution's favourite food trends of 2021…
1. Living To Cook, Not Cooking To Live
2021 became the year that meal planning and food shopping ceased to be a chore and transformed into a fun activity.
Well, as a result of intermittent lockdowns across Australia, Zoom cook-a-longs, cuisine experimenting, and frequenting the local supermarket were among the few COVID-approved luxuries. How can this be?
Which meant upskilling our culinary skills became a creative outlet, and for some, the most rewarding part of the day. *Chefs kiss*
2. Baked Feta Pasta
If you tried to purchase Feta this year and were met with empty shelves, you've got this food trend to blame. Clips of this mouthwatering Baked Feta Pasta resulted in one of the most upsetting news stories of the year, a worldwide feta shortage.
For those who are unfamiliar with this dish, picture this: a slab of feta, cherry tomatoes, herbs and oil mixed together in a bowl of golden al dente pasta.
So simple, so delicious and if you're keen to give it a try – so easily worked into your meal plan.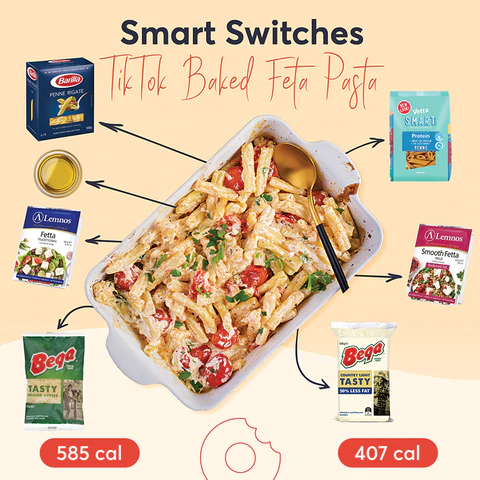 3. Making Things From Scratch 
Be it homemade pasta, dumplings, preserving or fermenting – 2021 saw quick meals turn into week-long projects. This proven method of reducing anxiety saved the day for many during long lockdown stints away from family, work and regular day-to-day spontaneity and interaction. Often providing a sense of accomplishment and fulfilment.
And that's just scratching the surface of health-related benefits. These lengthy cooking techniques like preserving and fermenting are a godsend to our gut health, aiding in digestion and even curbing sugar cravings. Tick, tick and tick.
4. "Cloud" Foods  
Exactly like you'd see floating in the sky, we're talking fluffy, soft and silky consistencies. "Cloud" snacks took centre stage on TikTok this year led by Cloud Bread and the Dalgona Coffee, otherwise known as a "coffee cloud".
The TikTok foodies dubbed Cloud Bread (made from egg whites and cream of tartar) a "vehicle for your favourite toppings". While a simple combination of water, sugar and coffee were whipped into a silky foam to produce the viral beverage: the coffee cloud.  Collectively these two food trends earned a whopping 6 billion views across TikTok.
5. Baked Oats
In a makeover that left Anne Hathaway in the Princess Diaries for dead, TikTok's infamous baked oats, AKA porridge-turned-muffin, was one food trend we hope you didn't miss this year.
If there's one thing that gets us excited in the Equalution office, it's eating a healthy breakfast that feels like a sweet treat. Check out our Caramello Baked Oats here.
So as we inch closer to 2022 and undoubtedly another year packed full of food hacks, viral TikTok videos and sweet obsessions – we'd like to make a few predictions of our own.
We've got our money on more plant-based meals, yuzu everything and home-grown produce (and we mean grown in your home, by you).