Happy St Patrick's Day Equalutioners! A memorial to St Patrick and a day to celebrate all things Irish culture, it's a fun reason for revellers to paint the town green. Eating your greens is important any time of year, so to celebrate St Patrick's Day, we've come up with some tasty ways to get more greens in your diet.
What are the health benefits of green vegetables?
We're not breaking news here in saying that green veggies are incredibly good for you. While they might not be the prettiest or tastiest (if you don't know how to work with them) food around, they're packed full of essential goodies your body needs to function healthily. Just some of the vitamins and minerals found in common green veggies are:
Vitamins A, B9, C, E, K
Folate
Beta-carotene
Lutein
Manganese
Potassium
Selenium
Fibre
These can help boost your immune system, brain function, and overall body health. If you're someone who tends to shy away from greens because they don't know how to cook with them, we're here to show you some handy ways you can eat your greens for St Patrick's Day.
Green vegetables in soup
Soup is such a fantastic way to get a solid dose of veggies in your diet and can be made in large batches (and then frozen or kept refrigerated) so you can enjoy it throughout the week. From a hearty veggie broth with chunks of diced veggies and green leaves stirred through it to a rich blue stilton and broccoli soup, there are some downright delicious ways you can sneak some extra greens into your bowl here.
Go green in a toasted sandwich
Even on your laziest days, you can always add a couple of leaves to a comforting toasted sandwich. Ham, cheese, tomato and baby spinach anyone? For the vegetarians, you can try making your own Green Goddess sandwich by layering a tasty spread like guacamole or pesto with your favourite leaves, cucumber, green capsicum and melting some tasty cheese throughout as well. Delicious, warm and super nutritious!
Sneak greens into your smoothies
This one's a well-known trick. You don't have to go full green detox smoothie to sneak a few extra veggies into your drink. Simply tossing a few spinach leaves in with your favourite fruits will help you get an extra dose of green in your day, and usually the sweetness of the fruit will cover up the flavour. This is perfect for those who don't really love the taste of greens but are trying to make a conscious effort to up their intake.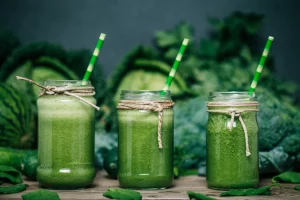 The ultimate St Patrick's Day Food: green hummus
Green hummus makes for a great St Patrick's Day food, especially if you're having guests around! There are so many simple and easy recipes to make it online, all using different green veggies. Whether you're a fan of creamy avocado or you want to add a little zing with some green onion, spinach and parsley, you can customise your hummus to include almost any green veggie you fancy.
Grate some greens into your mince
A much-loved secret by parents (and general vegetable avoiders) everywhere, grating veggies into mince is a bona fide way to sneak an extra dose of goodness into any meal. One of our favourite tricks is to grate zucchini into your bolognese or burger patty mince, as the other flavours in the dish hide the veggie almost entirely!
Eat your greens on pizza
Green veggies might not be something you automatically would associate with pizza, but in a world where kiwi fruit is making it onto pizza, anything is possible. Some tasty pies with greens are roast broccolini and bacon, prosciutto and rocket, and goats cheese and asparagus, but play around with your favourite greens to find your ultimate veggie pizza!
What's a zoodle?
Zoodles took the internet by storm a little while ago, and with good reason. Using a spiral machine to turn zucchini into a noodle shape, you can make a quick and easy pesto pasta-style dish with these. You can also pair them with teriyaki chicken, turn them into a cheesy bake, or even make chicken zoodle soup. You will need to source a vegetable spiraliser to do this, however they're quite affordable and once you do, your zoodle options are practically endless!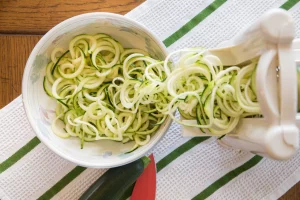 Eggs with a side of greens
Next time you're whipping up a big breakfast, scrambling some eggs or making an omelette, sautee a few greens to add some colour to your plate. Spinach goes perfectly in an omelette or scrambled eggs, while broccolini or kale add some extra nutrition to a big plate of bacon, eggs, baked beans and hashbrowns.
Leafy greens in dessert: strawberry and basil
One of our favourite food combos right now is strawberry and basil. Impress guests this St Patrick's Day by serving them a delicious bowl of balsamic-macerated strawberries with basil, paired with some low-fat ice-cream. You can also make some incredible strawberry and basil tarts if you're feeling creative in the kitchen.
Elevate your green salad game
To finish, probably the most obvious way to eat your greens is in a fresh and leafy salad. Gone are the days where salad meant a limp and boring assortment of plain veggies. In 2020 the salad has taken on a far superior form, where you can get Asian-inspired bowls with crunchy noodles and soy sauce, Middle Eastern-inspired creations with couscous and falafel and Mexican-inspired dishes with crushed-up corn chips sprinkled over them. From rocket to romaine, baby spinach to butter lettuce, there are an almost endless variety of leafy greens for you to pack your creative salads full of.