Fail to prepare, prepare to fail is the golden rule when it comes to sticking to any diet. At Equalution, we believe meal prepping is one of the BEST ways to help keep you accountable and stay on track. This is one of the many reasons why we create delicious weekly meal plans for our Equalutioners. If you're new to the Tribe or just feel like brushing up on your meal prepping technique, here are our quick tips to help you meal prep like a pro.
Prepare to prepare
We'll say it once, we'll say it twice, we'll say it a million more times: meal prepping is all about being PREPARED! Before you start cooking anything, you'll need to prepare what you're going to store all your meals in, aka. all the containers. You've seen all the aesthetic photos floating around the Internet of uniform containers packed neatly into fridges, and this is what we want from you! Meal prepping has boomed in popularity over the past few years, so you can pick containers up almost anywhere, and Kmart has some great ones for under $10 a set. Some key things to look out for:
BPA-free
Microwave safe
Freezer safe
Dishwasher safe (if you have one)
Containers of the same size (so they're easier to stack into your fridge/freezer)
Things like mason jars also work really well for overnight oats, chia seed puddings and parfaits, plus they also look cute if you wanted to take a cheeky snap for the 'Gram!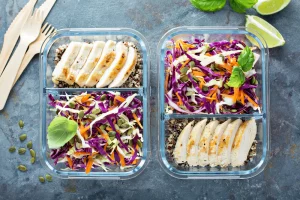 Design a menu for the week
At Equalution, we take the hard part out for you, by designing you a DELICIOUS and NUTRITIOUS, customised weekly plan that meets your ideal calorie, macro and micronutrient intakes. Doing this part yourself can be a bit tricky as no cookie-cutter solution fits all, but the next step is to create a menu for the week. Ensure you're including a variety of foods to keep yourself healthy and thriving, and you can use a calorie counter like the Equalution app to ensure you're at a deficit if you're trying to lose weight.
If this is your first-time meal prepping, start with a dish you're really comfortable with and batch make that. Things like pasta sauces, soups, curries and casseroles are usually great to start with, and also keep well in both the fridge and freezer. Once you get more confident you can start to experiment with new recipes, or have a chat to us and we can do it all for you!
Set aside a day to cook everything
This is especially important if you work Monday to Friday, as you probably don't want to spend an evening after a long day at work cooking for hours. If that's the case Sunday is usually a great day to cook! Make a list and head to the supermarket for all your ingredients, or you can also order online in advance. This is especially handy if you're on a budget as it can reduce impulse purchases, and always ensures you'll get everything you need!
One of the many, many benefits of meal prepping is you can usually buy your ingredients in bulk, which can work out cheaper. Being prepared for the week AND saving money? It's a win-win!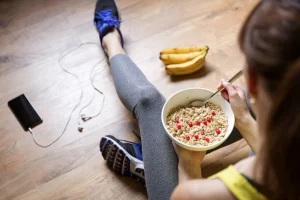 Start small and work your way up
If you're totally new to the whole meal prepping concept and are feeling a bit overwhelmed, you don't have to prepare 30 meals in advance. Start small and just prepare one dish, whether it's something you can easily reheat for your lunch at work, like pasta, or just some overnight oats for you to quickly grab in the morning for breakfast. Once you've nailed that dish you can try adding more, and before you know it, you'll be meal prepping like a pro!
Meals done, fridge stacked, life looking ON POINT. Now that we've given you some tips to kick-start your meal-prepping game, we want to see how you TAKE ON THE CHALLENGE! Tag us in your Instagram photos @equalution so we can see all your incredible takes on meal-prepping.