It's international hummus day, at Equalution we want to celebrate with you by sharing why we love to include hummus in a balanced diet and how to make and include them in your meals. Hummus is a dip or spread made primarily from chickpeas and then blended with olive oil, lemon juice, salt and garlic – delicious! These ingredients in conjunction and isolation have a number of nutritional benefits making hummus a nutrient dense food and super diverse. Pop it on your salad, into a wrap, dip with veggie sticks – can you see why we're hummus lovers here at Equalution!?
Chickpeas are;
Rich source of plant protein, 6.3g per 100g!
Low glycemic index which will help control blood sugar due to your body absorbing and digesting them slowly.
High in dietary fibre, 6g per 100g – 24% of your daily minimum. Fibre helps improve digestive health and ensure regularity with bowel movements AND will keep you fuller for longer.
Contains sources of calcium, iron, folate and phosphorus.
Olive Oil (derived from olives) is a nutritious ingredient too as it is a great source of healthy fat which is proven for weight control and heart health, a perfect addition to a balanced diet. Be careful with portion though – it's calorie dense! Together, these two key ingredients are a match made in health benefit heaven! Celebrate with us and make a macro-friendly hummus?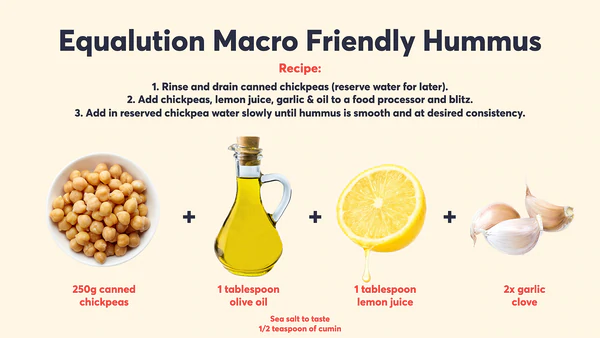 Some of our favourite Equalution recipes with hummus are:
Hummus, Veggie Sticks & Crackers (209 Calories)
Serve of Hummus
Veggie sticks of your choice i.e. Carrot, Celery, Cucumber
Packet Peckish Thins
Roast Vegetable & Hummus Wrap (240 Calories) 
Low Carb Wrap
Vegetables of your choice, our favourites to roast are capsicum, zucchini, pumpkin
Paprika
Serve of Hummus
Parsley to serve
Mediterranean Chicken Salad – Hummus Dressing (336 Calories) 
Chicken Breast
Lettuce & Rocket
Tomato
Onion
Capsicum
Cucumber
Feta
Serve of Hummus
While we love including hummus as a part of a balanced diet and while super nutrient dense, it also can be quite calorie dense more so than other dips and spreads. Therefore, as delicious as it is, remember our golden rule and ensure you're being mindful of portion control.