For those celebrating Good Friday festivities with a meat-free feast, look no further for your meal inspo!
Along with our friends at MEET, who create plant-based meat products, we've cooked up some calorie and macro-friendly dishes that are super tasty, and so good you'll be shocked they aren't actually meat!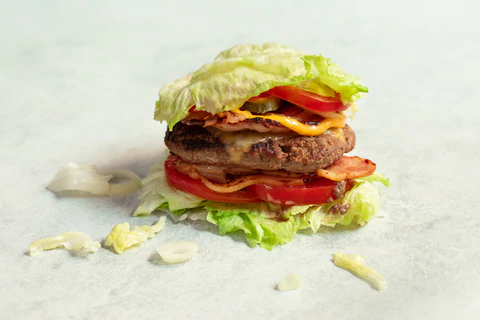 Bunless Burger with Self-Cut Chips & Veggies
Serves 1
Calories: 455 calories per serve
Ingredients
1 Meet burger patty
100g iceberg lettuce
15g onion
40g tomato
25g Don Short Cut Bacon
20g Always Fresh Cucumbers Bread & Butter Pickles
20ml Fountain Reduced Sugar Sauce
100g green beans
150g Spud Lite Potatoes
Method
1. For the homemade chips, slice or dice your potatoes then pop them straight into a preheated 180-degree air fryer or oven for 15-20 mins. You are welcome to season the potatoes with salt, pepper or rosemary, etc. if you wish.
HOT TIP: If you are using the oven, we suggest that you lightly steam the potatoes first in the microwave for about 5 minutes. This will ensure they have that delicious crunch when they come out of the oven.
2. Cook the patty in a non-stick pan over medium heat until cooked through.
3. Prepare the vegetables as per your preference (e.g steam, roast or fry).
4. Assemble the burger by using lettuce as a bun. Layer all the ingredients on one large piece of lettuce, then sandwich together with another large piece of lettuce.
5. Serve with chips and veggies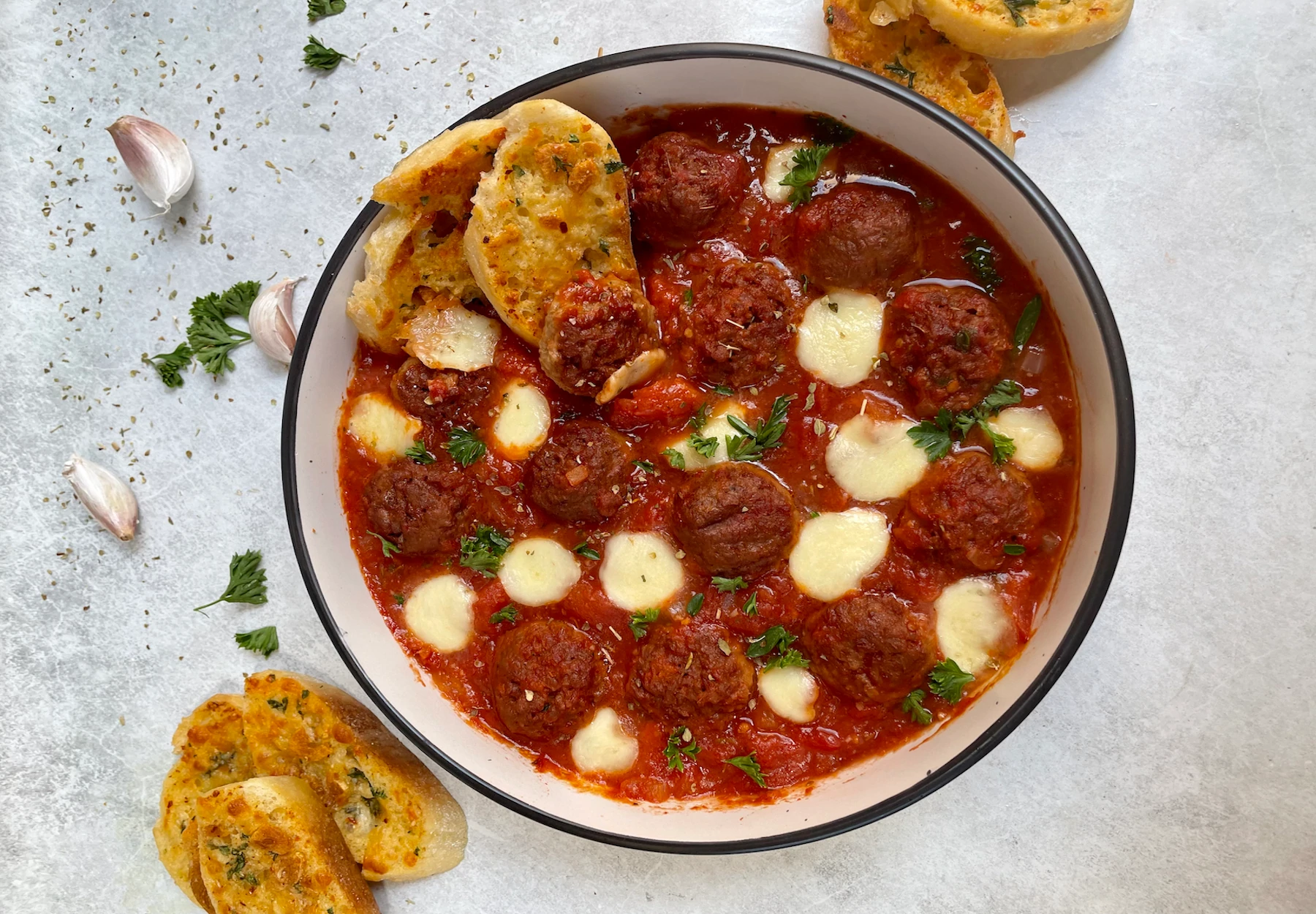 'Meatball' Bake with Garlic Bread
Serves 2
Calories: 643 per serve
Ingredients
1 pack Meet Meetballs
500g Leggos Bolognese with Chunky Tomato, Garlic and Herbs Pasta Sauce
5g parsley
50g parmesan
100g sliced Woolworths fresh mozzarella cheese ball (can switch for a vegan alternative if you wish, this will adjust the calories)
2 slices La Famiglia Kitchen Traditional Garlic Bread Slices 
Method
Preheat oven to 180 degrees. Cook garlic bread to packet instructions.
Place 'meatballs' in a baking dish. Cover with chunky tomato sauce.
Place sliced mozzarella around tray and then scatter over the parmesan.
Bake tray in the oven on 180 degrees for 30 mins.
Remove from oven, top with parsley and serve with garlic bread.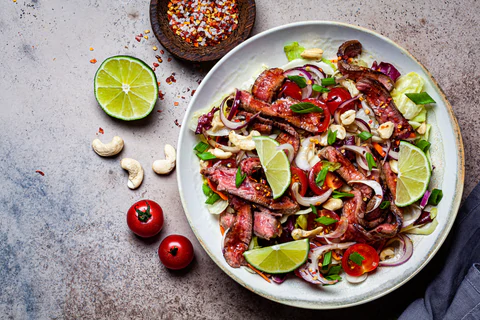 Thai 'Beef' Salad
Serves 1
Calories: 345 per serve
Ingredients
125g Meet Strips
80g lettuce
30g spinach
50g tomato
20g onion
40g carrot
50g cucumber
50g capsicum
15g bean sprouts30mL Mae Ploy Thai Style Salad Dressing
Method
1. Cook beef strips in a non-stick pan over medium heat for 2-3 minutes, turning regularly.
2. Wash and chop all salad vegetables, then transfer them to a bowl.
3. Add cooked beef strips and top with dressing and bean sprouts.
To find out more about MEET's plant-based products, visit their website here.