In today's fast-paced world, finding the time to cook a nutritious meal can be challenging. But that doesn't mean you have to sacrifice your health or indulge in unhealthy takeaway options.
At Equalution, we believe in making healthy eating accessible and enjoyable, so we've teamed up with FROPRO to curate this list to satisfy your cravings without compromising your health.
Chicken Twister Wrap
Ingredients:
FroPro FPFC Chicken Breast Tenders Hot & Spicy: 150 grams
1 x Low Carb Wrap
40g Mixed Leaf Lettuce
15g 99% Fat Free Mayonnaise
15g Corn Chips – Original

Method:
1. Cook chicken as per packet instructions.

2. Lay wrap on a flat surface and fill with all ingredients. Fold wrap over filling to enclose.
545 calories, 70g P, 24g F, 36g P, 13g F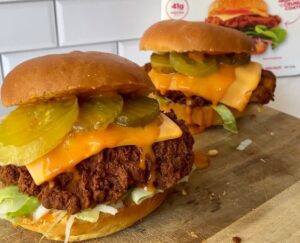 Fried Chicken Burger
Ingredients:
1 x FroPro FPFC Chicken Breast Fillet Southern
1 x Sandwich Thin
15mL Creamy Buffalo Sauce
40g Mixed Leaf Lettuce

Method:
1. Cook the chicken as per packet instructions.

2. Place the chicken, lettuce and sauce between the sandwich thin slices.

461 calories, 46g P, 20g F, 26g C, 5.7g Fib
BBQ Meat Lovers Pizza 
Ingredients:
1x FroPro Protein Pizza BBQ Meatlovers
Method:
Cook the pizza as per packet instructions.
702 calories, 53g P, 27F, 55C, 22g Fib
Chipotle Chicken Burrito & Corn chips
Ingredients: 
1x Fropro Chipotle Chicken Protein Burrito
1x Snack Bag Corn Chips
Method:
1. Cook the burrito as per packet instructions.
2. Enjoy with corn chips on the side, or add them to the burrito for that extra crunch! 
517 calories, 34g P, 16g F, 57 C, 2g Fib
We hope you enjoy these healthy and macro friendly takeaway options that take no time to prepare and are pack fulled of macro nutrients great for your body!