With the arrival of Spring there is no better time than now to sit in the sunshine and enjoy delicious and fresh food. We have put together our top 3 go-to meals to make during Spring!
Vietnamese Chicken Roll
1 x Woolworths Jumbo Crusty Long Bread Roll BBQ Chicken (no skin or stuffing): 60 grams Lettuce: 30 grams Tomato: 30 grams Carrot: 30 grams Cucumber: 30 grams Spring Onion: 15 grams Soy Sauce: 10 grams Praise 99% Fat Free Mayonnaise: 15 grams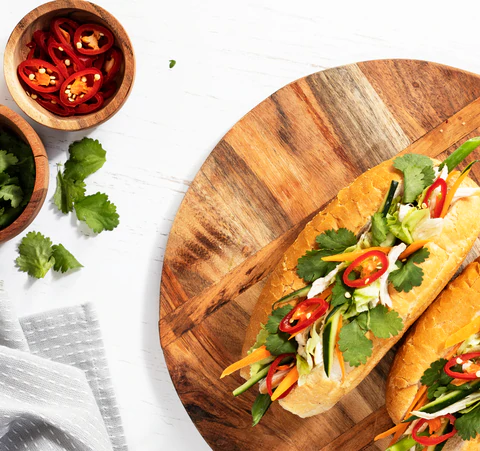 Spaghetti Vongole Pasta
Ocean Chef New Zealand Clams (weighed with shell): 200 grams
Vetta Smart Pasta Fibre Spaghetti 
(weighed dry): 70 grams Devondale 50% Less Fat Butter: 20 grams White Wine: 100mL Minced Garlic: 5 grams Fresh Red Chilli: 5 grams Fresh Parsley: 2 grams Cherry Tomato: 50 grams Nisshin Panko Breadcrumbs: 15 grams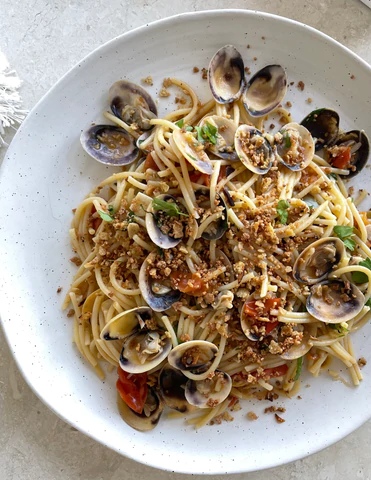 Vetta SMART® Fibre Spaghetti 
naturally delivers twice the fibre*, with the same look & taste as regular spaghetti. Made from premium Australian durum wheat, Vetta SMART Fibre Spaghetti cooks to al dente perfection every time!
Caesar Salad
Chicken Breast (weighed raw): 120 grams 1 x Whole Egg Cos Lettuce: 40 grams Spinach: 20 grams Don Diced Bacon: 20 grams Praise Caesar Salad Croutons: 20 grams Perfect Italiano Shaved Parmesan: 5 grams Praise Caesar Dressing: 15 mL