Yoghurt is a handy and delectable snack that should always be stashed in your fridge for both its deliciousness and health benefits. The endless pros of yoghurt make it a hot go-to for our meal creators here at Equalution HQ and for our Equalutioners too. Yoghurt has proven to be versatile, as well as a tasty food to work with. From making it into dips and sauces, blending it into a smoothie or pairing it with fruit and granola, yoghurt has many uses. Still not convinced to stock up on yoghurt? Let us show you the light!
Benefits of yoghurt for your health
Yoghurt is a fantastic source of calcium and phosphorus, which mum always said we need to help keep our bones strong. It's also a great source of protein, with some brands like YoPro managing to pack 15-17g of protein in their original range! Vitamin B12 can also be found in yoghurt, which plays a key part in keeping the body's nerve and blood cells healthy, as well as helping to make DNA. With all these goodies packed into a tub of yoghurt, it's easy to see why it should be a star in any diet.
The Australian Guide to Healthy Eating recommends 2.5 serves of dairy per day for an average adult, with 200g of yoghurt being the equivalent of one serve, making it a breeze for you to get that daily requirement of dairy in. This is also exciting news for those who might not like the taste of milk or prefer milk-substitutes, as you can easily get the rest of your dairy intake through other sources like hard cheese or ricotta. Low-fat yoghurts are also low calorie, meaning you can give your body what it needs while also getting the most bang for your calorie buck.
Is yoghurt good for your stomach?
Yoghurts containing 'live cultures' are packed with probiotics, which are essential for maintaining healthy gut bacteria, aiding good digestion and great gut health, so the benefits go beyond the micro and macronutrients! For those who suffer from IBS, Greek yoghurt is usually well-tolerated, so pairing some with your favourite fruit will not only be a delicious way to get those all-important nutrients in, but also to support a healthy and happy gut. Just make sure you choose one with no added sugar, artificial sweeteners and is low in fat! Artificial sweeteners can sometimes cause gas and other unwanted stomach symptoms, so the more natural, the better.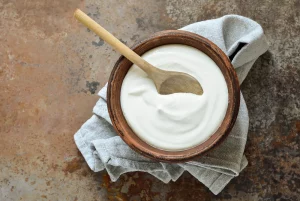 Can you have yoghurt if you're lactose intolerant?
Lactose intolerance occurs when there is a lack of 'lactase' in the intestine, which is responsible for breaking down lactose – the main sugar compound found in dairy products such as milk and cream. The levels of lactose differ between dairy products, for example, full cream milk contains a fair amount of lactose, whereas hard cheese is naturally quite low in lactose and for those with lactose intolerance, a small amount is usually fine to enjoy. When it comes to our hero food, yoghurt, the specific fermentation process to make it actually breaks down most of the lactose. This means that yoghurt is naturally quite low in lactose, and in combination with the probiotics present, means that most people with lactose intolerance should be able to eat yoghurt! However, if you're lactose intolerant and a little hesitant to see if regular yoghurt will work for you, you could always opt for a lactose-free or dairy-free yoghurt.
What is the best time to eat yoghurt?
Fun fact: did you know that what time you eat yoghurt could have an impact on whether you get the most out of it? It's thought that eating yoghurt first thing in the morning on an empty stomach is best, as the stomach is less acidic then. Once you've started eating for the day and your stomach acid levels increase, all the good bacteria and probiotics can be killed off in the stomach and not reach your lower intestine. The lower intestine is where all the magic happens to maintain your digestive health, so it's pretty important that the good bacteria reach it alive and well!
Another great reason to add yoghurt to your breakfast is that it can help raise the level of the hormone that tells you you're full, meaning you'll stay feeling nourished and satisfied for longer.
Tasty yoghurt recipes
Ready to make yoghurt a foundation in your diet but not sure where to start? Our Equalution team have let us in on a few of their favourite yoghurt-based dishes for you to shake your diet up with. Best of all, they're also perfectly calorie, macro and micro friendly.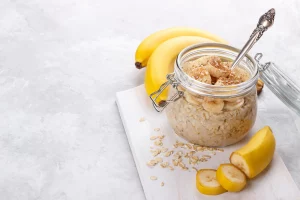 Peanut Butter Overnight Oats
Uncle Tobys Traditional Oats 40g
Danone Yopro Plain Yoghurt 80g
Skim Milk 125mL
Bega Light Peanut Butter 15g
Banana 50g
Honey 5g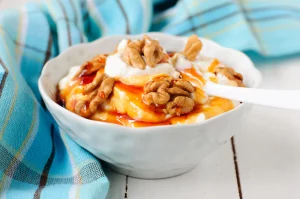 Salted Caramel Yoghurt Bowl
Danone Yopro Flavoured Yoghurt Tub – Salted Caramel x1
Heritage Mill Salted Caramel Hazelnut Clusters 30g
Cadbury Baking White Choc Chips 10g
Banana 50g
Sugar-Free Maple Syrup 20mL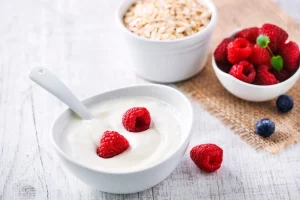 Fruit Salad & Yoghurt
Danone Yopro Flavoured Yoghurt Tub x1
Kiwi x1
Strawberries 100g
Raspberries 50g
Blueberries 50g
Honey 5g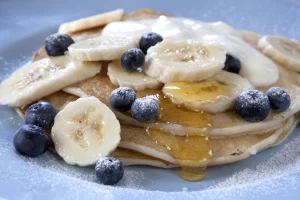 Protein Pancakes
Uncle Toby's Creamy Honey Oat Sachet 35g
BSC Whey Protein Powder 15g
Whole Egg x1
Danone Yopro Vanilla Yoghurt 60g
Vanilla Essence 5g
Baking Powder 2g
Equal Sachet x1
Banana 40g
Queens Sugar-Free Maple Syrup 15ml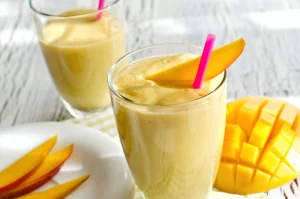 Frozen Mango Yoghurt Smoothie
Protein Powder 30g
Skim Milk 125mL
Danone Yopro Flavoured Yoghurt Pouch – Mango x1
Frozen Mango 100g
Honey 5g
Don't they all sound incredible? If you make any of the above recipes, we'd love to see your beautiful pics on Instagram and Facebook. Don't forget to tag us @equalution and let us know which one was your fave!