If you're after an easy lunch idea that's both filling and nutritious, look no further than our topped Vita-Weat recipes!
We love these because they not only take a minute or two to assemble, but they're packed with nutrients.
Did you know Vita-Weat alone have over 3 grams of fibre per serve (3-4 crispbreads), contain vitamin B3 for energy and are made from 100% whole grains?
Then you add some nutritious toppings and voila, you've got a healthy, satisfying lunch!
Here are some of our favourite Vita-Weat toppings…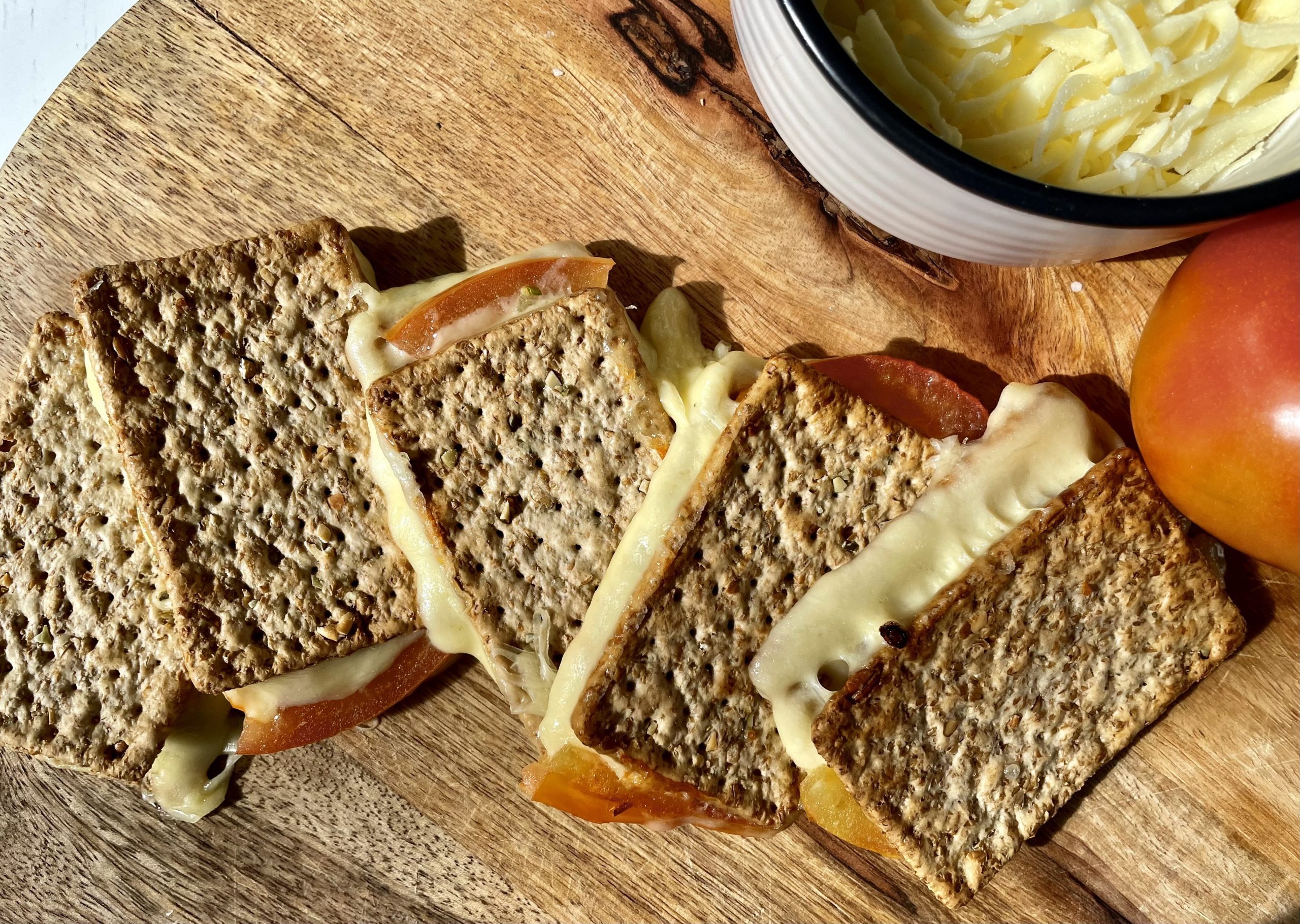 Ham & Cheese with Arnott's Vita-Weat Melt
Calories 246
Protein 22g, Fat 10g, Carbohydrates 16g, Fibre 4g
Ingredients
2 Arnott's Vita-Weat Pumpkin Seed & Grains
10g Tomato
20g 97% Fat-Free Shaved Leg Ham
20g Light Shredded Mozzarella Cheese
Method
Preheat the oven to 180°C.
Layer the Arnott's Vita-Weat with sliced tomato, ham and cheese. Bake in the oven until cheese is melted.
Turkey, Cheese & Sririacha Mayo
378 calories
29g protein, 14g fat, 30g carbohydrates, 5g fibre
Ingredients
6x Arnott's Vita-Weat Soy & Linseed
80g Shaved Turkey Breast
2x Slices Low-Fat Cheese
20g Spinach
20g Sriracha Mayo
Method
Layer your turkey, cheese and spinach on top of your Vita-Weat. Drizzle with sriracha mayo and serve.
Cannellini Bean, Avocado & Feta
Calories 278
Protein 11g, Fat 12g, Carbohydrates 28g, Fibre 11g
Ingredients
5 Arnott's Vita-Weat Soy & Linseed
60g Cannellini Beans
30g Avocado
20g Danish Feta Cheese
2g Fresh Mint
15ml Lemon Juice
Method
Rinse and drain cannellini beans. Add to a bowl with avocado, feta and finely chopped mint. Mash until smooth.
Top the Arnott's Vita-Weat with the cannellini bean mix.
Ham & Cream Cheese 
Calories 125
Protein 10g, Fat 5g, Carbohydrates 9g, Fibre 2g
Ingredients
2 Arnott's Vita-Weat Pumpkin Seed & Grains
40g 97% Fat-Free Ham
20g Philadelphia Light Cream Cheese
20g Tomato
10g Baby Spinach
Method
Slice vegetables. Layer all ingredients on Arnott's Vita-Weat.
For more delicious, calorie-friendly recipes created by us right here in-house, click here!