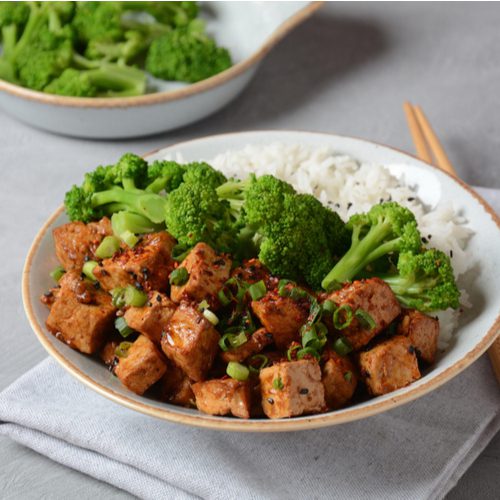 Japanese  Teriyaki Chicken & Rice
Calories 459 per serve
Protein 25g Fat 14g Carb 61g Fibre 6g
100g Teriyaki Tofu
40g Teriyaki Sauce
80g Broccoli
20g Brown Onion
125g Cooked White Rice
Instructions
Cook the diced tofu in a non-stick pan for 4-5 minutes or until cooked through, then set aside.
Add chopped vegetables to the pan and cook for 2-3 minutes until soft. Add sauce and simmer for 3 minutes over low heat.
Add the cooked tofu and toss to combine. Cook the rice as per packet instructions.
Transfer the cooked rice to a bowl and then top with the stir-fry mixture.
Discover some of our other scrumptious
Equalution recipes.