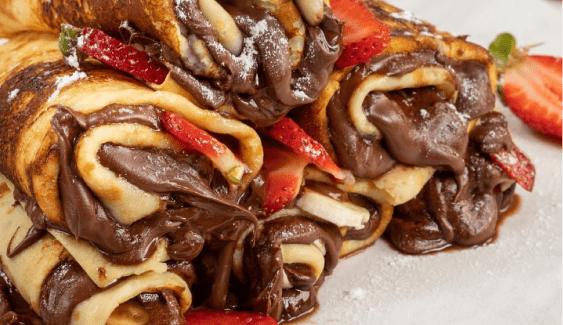 Calories 336 per serve
Protein 14g Fat 12g Carbs 43g Fibre 3g
15g Plain Protein Flour
1 Whole Egg
80mL Unsweetened Almond Milk
60g Peter's Light & Creamy Ice Cream
15g Nutella
100g Strawberries
Instructions
Combine flour, milk, vanilla and egg in a bowl. Whisk using an electric mixer until smooth. You can use a whisk if you don't have access to an electric mixer, but ensure your batter is super smooth with no lumps.

Heat a non-stick pan over low heat. Pour the batter into the centre of the non-stick pan and rotate pan to spread batter as thinly as possible.

Flip and cook until both sounds are browned. Remove from heat and serve warm with Nutella and fruit listed.
Discover some of our other scrumptious
Equalution recipes.
Satay Chicken Skewers & Rice
Peanut Banana Protein Pancakes