At Equalution, we're a food tracking app that features more than a just one-size-fits-all meal plan.
The experts agree that tracking your daily nutrition is one of the best ways to hold yourself accountable and set up long-lasting habits.
That's why our programs feature
A personalised meal plan

A calorie tracker

A food diary 

1:1 coaching (premium plan only) coaching forum
Let's unpack each of our food tracking app features in more detail.
The Meal Plan
When you sign up to Equalution, we'll ask you some questions about your food preferences, needs and goals. We'll then create a personalised meal plan based on the information you've shared with us — think of it like your very own menu, where each item is tailored to your taste buds!
Your meal plan will include a selection of our in-house recipes that are well-balanced, nutritious and tasty. 
See a recipe you're not sure about? You can swap it out for something else!
 Our mission is to make your mealtimes more enjoyable, convenient and healthy; your meal plan is designed to help you eat better and enjoy doing so, which is why we put so much of the choosing power in your hands. 
Both our Standard and Premium subscriptions give you the option to request meal preferences and utilise the in app meal swap feature to change up your meals during the week. 
The Premium plan also allows you to reach out to your personal Nutrition Coach, who will offer you support and guidance to develop a meal plan you love. 
Have a dietary restriction? We offer gluten-free, dairy-free, lactose-free, vegan, vegetarian and pescatarian meal plans too!
We ensure that all of our meal plans are balanced. Believe it or not, you'll find burgers, pizza, pasta, ice-cream and desserts featured in our meal plans. 
Yep, you can still enjoy these foods and reach your goals. In fact, research shows that for sustainable and long-lasting results, balance trumps deprivation each and every time. 
This dedicated meal plan is designed to make mealtimes delicious and convenient, while also giving you the ability to better track your food intake.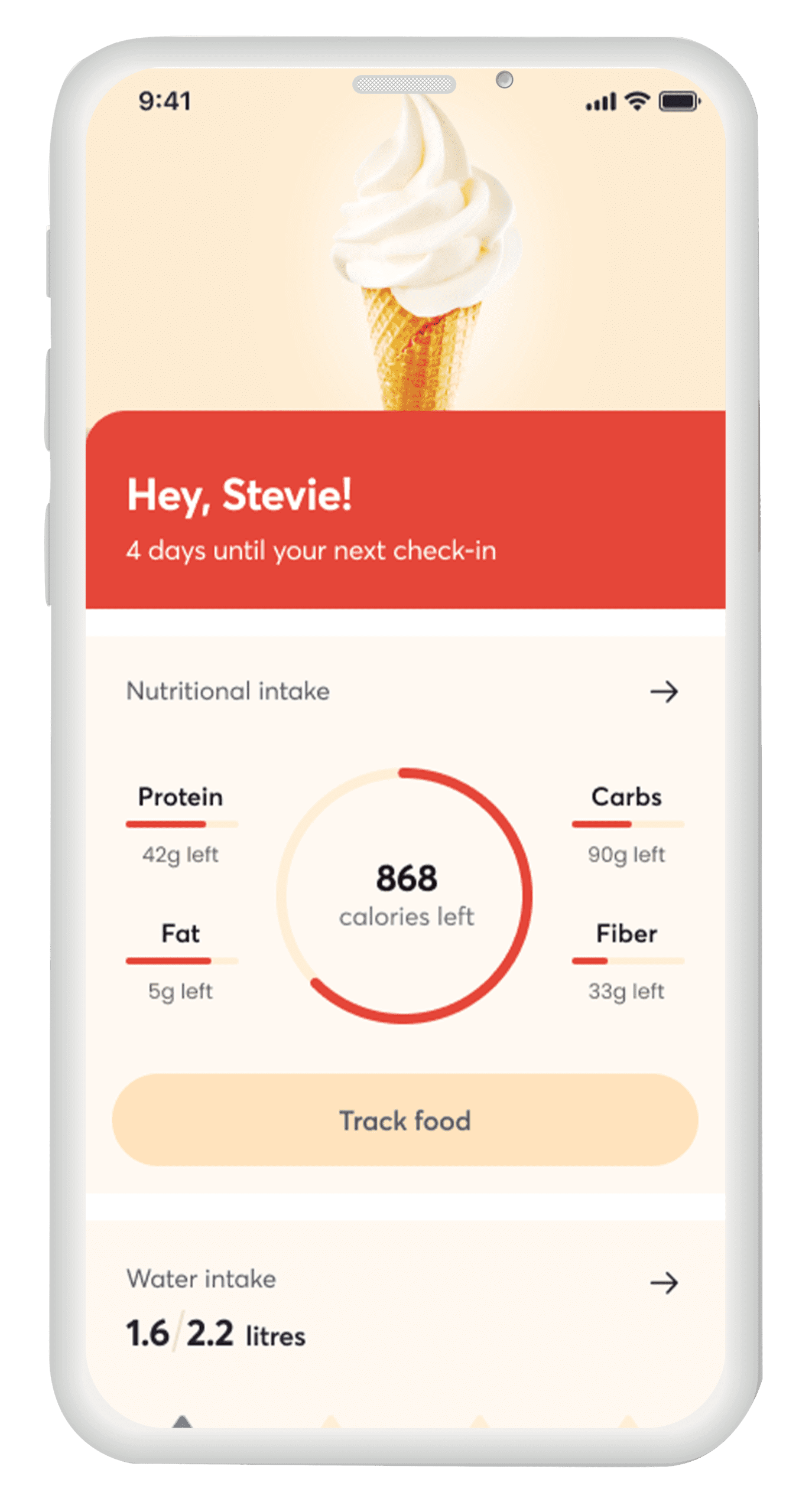 The Food Diary App Feature
The in-app food diary allows you the freedom to track all foods you consume, even if they aren't part of your personalised meal plan.
Our database has accurate ingredient entries, which are input and updated by our dedicated in-house database team. This ensures you're tracking ingredients with the correct macros and calories every time.
Our food diary is the perfect tool for when you're feeling confident and ready to start taking control of creating your meals and tracking your intake. It's great for educating you on the power of mindful eating.
Mindful eating is about focusing on your eating experiences, so you'll be encouraged to pay attention to the foods being chosen, your internal and external physical cues, and how you think, feel, and respond to what you eat. 
This exercise is about heightening your awareness without judgement. Keeping track of what foods taste great and make you feel good will help you make healthy, balanced choices down the line. 
You'll also gain access to a water tracker to help you ensure you're hitting your daily water intake, which can be challenging! 
Macros Food Tracker
Our food calorie tracker outlines calorie and macro targets that will help you achieve your goals (and that are suitable for your dietary requirements).
You won't need to do a body scan or complete any tests. We'll obtain the information we need through a comprehensive questionnaire. These answers will help us formulate your daily targets. 
Your macro target tracker will include the overall calorie, protein, carb and fat goals that we've calculated specifically for you.
If you've opted for the Premium plan, you'll take part in weekly check-ins via your tracker, where you'll be asked a series of questions related to your macro targets, your menstrual cycle, your water intake and your food preferences.
We'll then assess your results and make tweaks to your plan where required. 
This food tracking app feature is designed to give you more information about what nutrients you need to feel your best. It'll also show you that you can enjoy all of your favourite foods and still reach your goals!
Coaching
When setting up new healthy habits, it's essential that you're following advice from people in the know. We're talking about experts in the field that understand how to do nutrition right. 
After joining us on the Premium plan, you'll be matched with a nutritionist who will help guide your journey.
Not only will your nutritionist set up your meal plan for you, but they'll also be available for one-on-one coaching sessions to talk you through your food diary and to help you set goals. 
Your coach will be able to answer any questions you may have about your food tracker and they'll also be able to make adjustments to your targets where necessary.
Join the Best Food Tracking App in Australia
Equalution is a food tracking app that puts your goals, taste preferences and needs at the forefront of your nutrition plan. 
We're here to help you enjoy the foods you love and reach your goals at the same time — and that's what makes us different!